Back To Our Services
As a system with over three hundred components, the automatic garage door needs care to work properly. Yes, the work is time and effort-consuming, but without it, there are serious safety and security risks. To produce the best results, maintenance must include the following tasks.
Maintaining Tracks and Rollers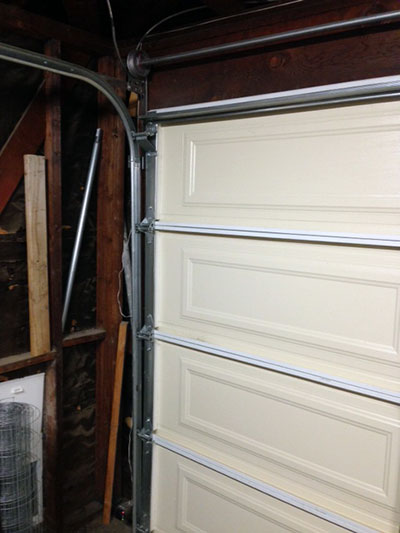 Step number one is a quick exam. The tracks should be checked for obstruction, misalignment and rust. While pebbles are best removed by hand, sticky dirt requires solvent. When the brackets are slightly loose, it is easy to align the vertical and horizontal track sections. After this, all bolts require tightening. A rust remover should help in getting rid of this kind of damage. To protect the tracks in the future, you should use only safe garage floor and driveway cleaners. Rollers with dull wheels and twisted stems require immediate replacement. The ones in good condition should be lubricated with lithium spray.
Steel Panel Cleaning
It is important to start with a check for rust. The bottom panel is the most vulnerable so it deserves the most attention. With safe mild rust remover, traces of rust should be gone. However, for protection, it is best if the panels get repainting after the cleaning job is done. Mixing liquid detergent in water makes a great cleaner, but it is also possible to use a specially formulated product. The key thing is the use of a sponge for rubbing the panels clean without scratching them. Fresh water and sponge are all the things necessary for rinsing.
Screw Drive Opener Care
While the metal rod and rail are highly resistant to damage, the trolley requires more careful check. If it is worn or damaged, immediate replacement is the best way to go. The rod needs lubrication and so do the sections where there is friction between the trolley and the rail. The closing force of the opener should be tested with the help of a double ladder, so it won't block the safety sensors. If the door hits the object instead of touching it and reversing, the force requires adjustment.
Need help with garage door maintenance? Count on us to do all the work professionally. Our service covers absolutely all components from the bottom seal to the opener and includes everything from checkup to lubrication. When there are damaged, faulty or broken parts, we'll fix them or replace them right away. For using our services, call us or leave a message.
To learn more about us at Garage Door Repair in Beach Haven, go over our website.
Back To Our Services